C.P.Gregory & Associates
Fire Investigation Services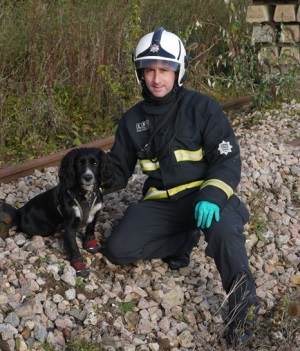 Paul & "Sherlock"
Paul Osborne & Sherlock graduated on the 22 November 2013 following Paul's exhaustive selection process and an intense training course for the team.
Paul passed selection after Sherlock's previous handler Dave Arnold decided on a career change part way through training. Fortunately Paul & Sherlock became instant best friends and the training accelerated with unprecedented speed and accuracy.
Sherlock had previously exhibited some very encouraging characteristics but when he resuming training with Paul Osborne he made jaw dropping progress.
Paul is an experienced Fire Investigation Officer based at Dowgate in central London and with his new partner Sherlock will make a formidable contribution to the department.